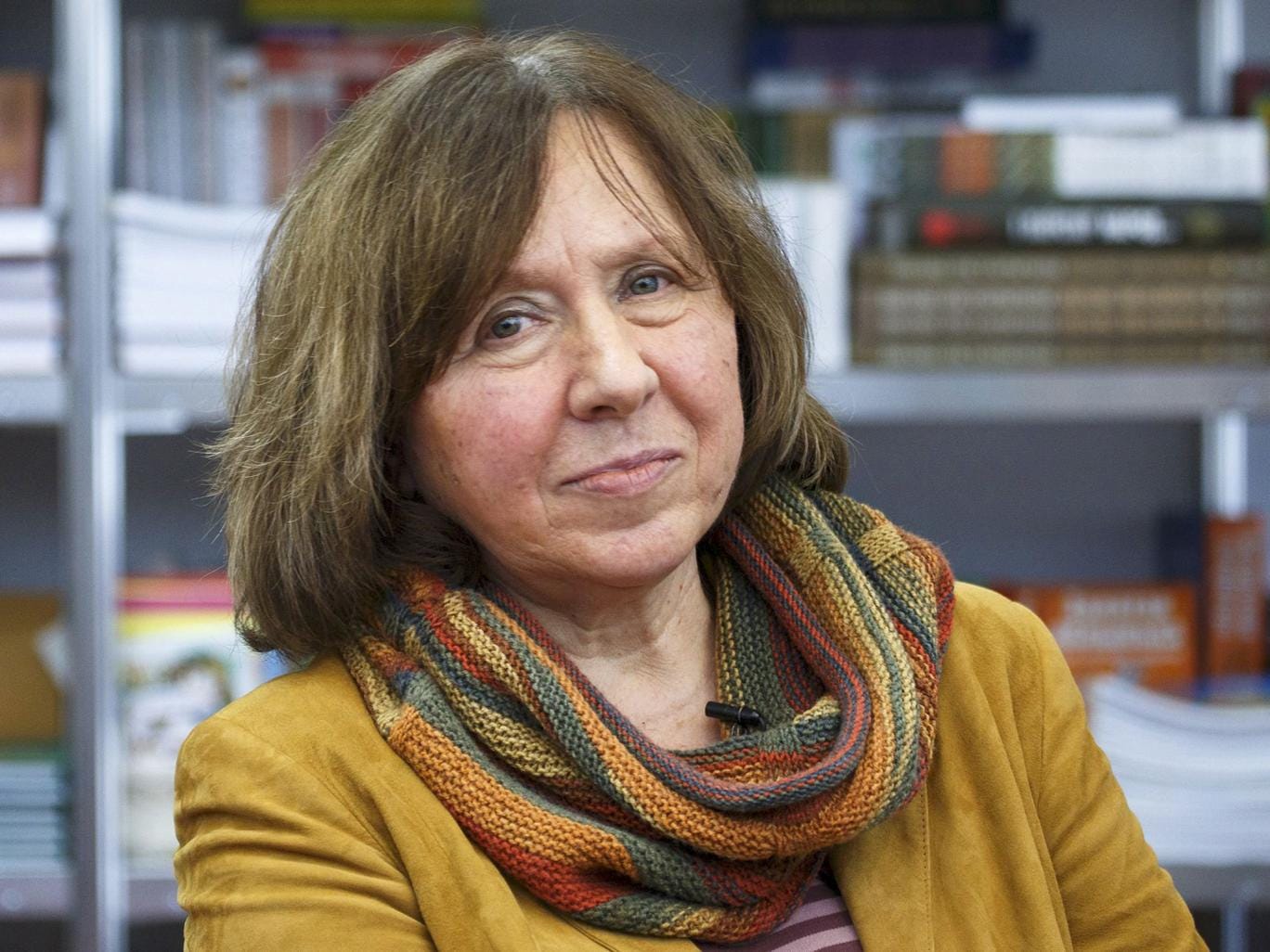 I'm searching life for observations, nuances, details. Because my interest in life is not the event as such, not war as such, not Chernobyl as such, not suicide as such. What I am interested in is what happens to the human being, what happens to it in of our time. How does man behave and react. How much of the biological man is in him, how much of the man of his time, how much man of the man.
If you're wondering who Svetlana Alexievich is, you're not alone. Most recognized for a book she did on the Chernobyl, Voices from Chernobyl, she is primarily a journalist, and her work consists of interviews done with hundreds, even thousands of people, interviews she uses to define world events as massive as the Second World War (The Unwomanly Face of War).
Last week, she was awarded the 2015 Nobel Prize for Literature.

Most recently, she published a collection of interviews over an even broader subject--our mutual humanity.
Most of us--me included--know her only by what we have been able to read about her since the award. Her webpage is greatly helpful.
What's in this latest work of hers,
The Wonderful Deer of the Eternal Hunt
? What will we find in the interviews she includes? Here's what she says:
That everything turns into memories. That each life is interesting in its own way. That without death you can't understand life. That love plunges us into the depths of our own selves. That human beings are neither saints nor satans but somewhere in between. That our knowledge is powerless. That in love people look for the same things as in war and crime. That each one of us conceals both men and women. That we live among shadows, among the impossible and the unrealized. That in love you may disappear as in death. That the real life and death of the body is inaccessible to us. That Christ was also a man. That you can die from love during the war. That everyone may recall what he/she would like to conceal. That all creatures in this world love one another - flowers, trees, butterflies, worms, birds. That no modern technology can free us from the need to love, feel and suffer.
There's more, more of the same. Her own summary of Wonderful Deer ends by describing the stories her subjects tell as being basically "about people's desire and failure to find happiness."

That she was chosen is quite unusual. If you're wondering whether the Nobel Prize for Literature has ever been given to a journalist, you're not alone.
The answer is no. This is new.

I wish--I really do--that I could read The Wonderful Deer of the Eternal Hunt because it sounds magnificent, although I'm more than a little wary of reading nothing but "failure to find happiness." Still, in my own life of interviewing people for writing projects (Crossing Over, On the Trail of the Spirit, Rehoboth, Our Family Album), I can't begin to describe how much I've learned by simply listening to the stories of people's lives.
One of the most dramatic and powerful moments I experienced in the last couple of years happened when four Christian men deeply involved in a difficult racial decision on Chicago's west side talked about that experience forty years ago--remembered and cried, not because they believed they were wrong in ruling what they did, but because the decision was back then and remains today so harrowing, so impossible.

Once upon a time in a long interview, I asked a Laotian woman whether she liked working in a packing plant. I knew very well that lots of white Iowans would have done anything not to have to spend their days wielding a knife on a hanging hog carcass. She looked up at the translator who was with me and shook her head. She didn't understand the question.

I repeated it. "Ask her if she likes her job at the plant," I told the translator. "Not everyone would."

She looked at him as if he was the idiot in the room, then gave him an answer she seemed to say was self-evident.
He listened, then looked at me. "She says back home she had to do all of the butchering."

At that moment, I was embarrassed. I was a Joe American, a cultural blind man. At the packing plant, dressed well in a protective smock, she made just one or two cuts on the pork that came up the line. In Laos, she had to butcher the whole animal. The packing plant was a dream come true.

When you listen to people, it's remarkable how much you can learn. When you ask them to tell their stories, what results is whole libraries of incredible narratives.

That's what Svetlana Alexievich knows, and that's what Svetlana Alexievich does.
She may not be an imaginative writer, but she certainly
tells stories that define us, that are us. I'm anxious to read some myself.