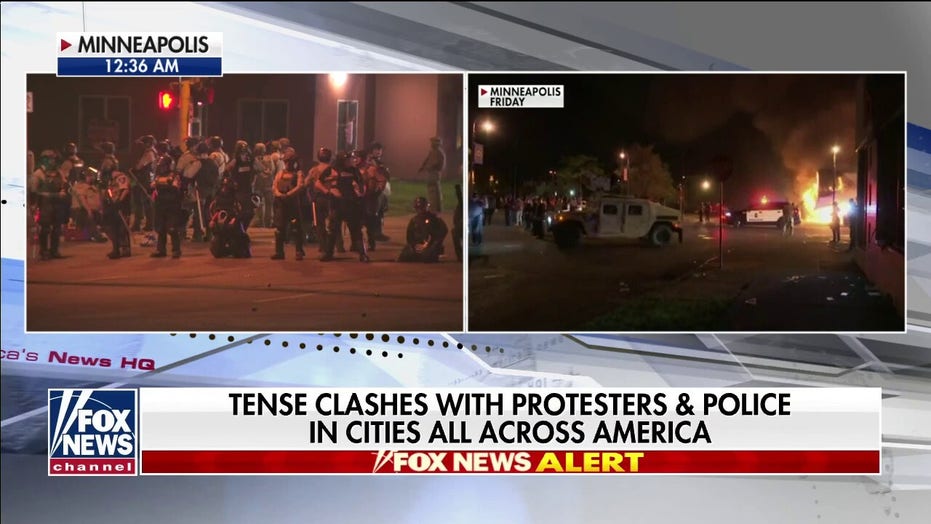 Something's happening here that our President can't tweet or bully, lie or sue or buy his way out of. Two things actually--well, three. One is a pandemic that has taken 100,000 lives. He can pretend it's not there, urge his MAGA crowds to liberate us from oppression, and thereby undercut the CDC guidelines his own White House has created. But with the general populace and the majority of the American people, it's clear that nothing he does or says cuts any mustard. He's a clod of cold ground, and he's the President of the United States.

That Covid-19 has ransacked his precious economy goes without saying. More Americans are out of work than at any time since the Great Depression, and the numbers continue to rise. Small businesses by the thousands will not be what they were; lots of mom-and-pop start-ups are simply gone. His ace-in-the-hole--"the economy, stupid"--can no longer be, well, trump.

And now insurrection all over the nation, protests morphing into bedlam, riots, looting and burning and destruction all around, all of it growing out of an issue whose reality Trump has emphatically denied in order to secure his place among his people. For months in his presidency, Colin Kaepernick was the Devil incarnate, a quarterback whose cardinal sin was taking a knee during the National Anthem. "Get that son-of-a-bitch off the field!" Remember that? Kaepernick hasn't played a quarter since.
What the nation witnessed in a video last week was a white man, a cop, taking a knee on the throat of a black man. Trump cut his teeth on vilifying Black Lives Matter. After Minneapolis, Kaepernick, once the Devil, seems Jeremiah, and the President, with no leg to stand on, is locked into his own powerless rhetoric.

Last weekend he spent time in the bunker beneath the White House with his precious phone, berating what's happening all over America in his tried-and-true fashion, threatening "vicious dogs and ominous weapons" all over his (our) front lawn, flailing away as he's done every last week of his Presidency, trying to call up the ire of his own MAGA-capped military.

Three immeasurable problems have left America's Bully King naked as a jaybird. Things are falling apart, and our tough-guy POTUS is a paper tiger. He can blame Antifa or whatever anarchists he can name, but he can do nothing to unify people he was elected to serve, He's spent the last four years serving up raw meat for the 40 percent who've stuck with him, including t-bones of overt racism.

Yesterday in the Washington Post, Michael Gerson, a conservative Republican, and a Christian, said about Donald Trump: "He simply lacks the capacity to talk about our shared humanity." Gerson says Trump truly believes deep within the core of whatever soul he has that "no one who supports him can really be bad," and that includes "angry racists." They've become his core.

What's become vividly clear in the last three months--what's obvious during this last horrible, horrible weekend--is that three forces far beyond his control have left him flailing and failing, blaming the WHO and Antifida, and clearly ineffectual at doing anything himself about our problems, only making things worse by his infernal tweeting.
He can't buy his way out. He can't bully. He can't lie. He can't sue. He's met forces he can't demean or squash. Given the yes men he's lined up around him, I just hope things don't get worse.