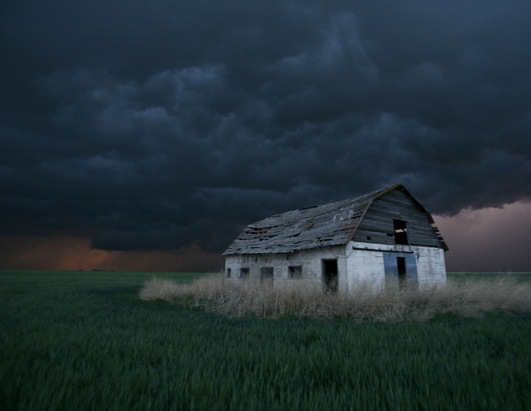 (continued from yesterday)
It descended monstrously, people said, from a blue-green sky; but when it first touched down it was no wider than a wagon wheel. In minutes, it grew into monster, starting on the northwest corner section 34 of Center township, Sioux County, Iowa, not all that far from where I'm sitting--just three east and two north of Ireton, on the Cobbs family farm, where it destroyed absolutely everything. The family, in the cellar, was spared, but an implement dealer from Hawarden got picked up like a rag doll and tossed over the grove.
Once it struck, all that was left of the school across the road was a disassembled stone foundation, the frame building itself picked up into the air and smashed like an egg shell, the Sioux County Herald says, the teacher, a Miss Anna Marsden killed instantly, along with one student, eight-year-old Nellie Coombs, the others--the rest of kids, all of them, injured and covered with mud.
Then the killer moved north, taking out farms at will. Mrs. L. Wynia had put one of her kids into the cellar and was holding the baby and on her way down herself when the beast picked her up and carried both of them away. Mr. Wynia found his wife later in a slough, injured badly, the baby still in her arms, dead.
It wiped out C. Haage's farm place, but Haage himself somehow stayed alive by clinging to a tree. Not one Haage household item was ever found anywhere.
The monster seemed determined to wipe out schools. The next one in its northern path was annihilated, the teacher, George Marsden, a brother of the young teacher who'd died just a few minutes before a couple miles south, was himself killed, as was a child of J. Koster. When the Herald story was written a few days later, there was little hope for two DeWeerd kids, all four DeWeerds badly hurt. All of them did survive.
The rampage continued, wiping out the the Butler place, then killing three at the Koster homestead--mother and child and a Mrs. Peter Postma, who happened to be visiting.
Then, for reasons all its own, it relented a bit, going north but killing no one and doing significant damage at the A. J. Sandbulte place, and the farms of D.W. Doornink, John Boer, A. Eggink, G. W. VanPutten, and B. Kastein.
For some time, there seemed to be less destruction, but the storm grew in fury, and when it came down again on section 14 of Welcome township, it was broader, wider, and more intense, taking our everything in its path. Tuenis Ver Hoef lost a child, a four-year-old girl, but otherwise the giant seemed determined only to wipe out buildings on the farms of everyone in the vicinity--the Ver Hoefs, the Heynens, the Van Berkums, and yet another Koster family.
The schoolhouse across the road was lifted into the air and the bottom fell out. All of the kids were injured, some severely, but none killed, nor was their teacher, Miss De Boer. Crops were just emerging, small enough not to have been destroyed; but dirt covered everything with a coat of heavy mud.
Mr. Henry Nieland was a few miles outside of Sioux Center when the tornado struck, lifting him bodily out of the wagon. The wagon itself was totally destroyed, the horse killed, but he wasn't hurt.
Mr. A. J. Bolks escaped injury by running out into the field away from the twister, but all of his buildings were destroyed--and, so the Herald says, those buildings were very impressive. But no more. After the storm, what was there was little more than mud.
The storm lifted somewhat once again and seemed to relent--just a few buildings in the Perkins area were dumped or destroyed; and another schoolhouse, the storm's sixth, was wiped out totally, none hurt. The storm then continued its destruction along the path of the Great Northern Railroad, north of and west of Hull and into Lincoln township, where more farms were damaged, some destroyed.
The bodies of Mrs. John Koster and two children, Mrs. Peter Postma and the four-year old daughter of Mr. and Mrs. T. VerHoef were laid to rest in the Sioux Center cemetery after a funeral service at the Reformed Church that was so full "many could not enter," the Herald reported. Nettie Coombs and the baby of Mr. and Mrs. L. Wynia were buried at Ireton.
Far away, in Boscobel, Wisconsin, the entire town turned out for the funeral of George and Anna Marsden, who'd come to Iowa to teach in the rural schools of Sioux County. They'd lived together, taught just down the road from each other; and when the tornado came through, it took both of their lives, two young schoolteachers, far, far from home.
New Holland, South Dakota, was two-days travel away in 1895, but lots of the settlers of Charles Mix and Douglas Counties had relative and friends in Sioux County, Iowa. When Renska deJong wrote her sister Baaye, back in Friesland, and told her so fearfully about "cyclones," what she was describing was the monster killer that had laid a mile-wide path of destruction and death throughout Sioux County, and killed at least ten people, including some beautiful children who'd been at school.
"Fields were destroyed of some 100 farmers and schoolhouses were shattered," she wrote. "Buildings were lifted up into the air just like that, the people in them killed, schoolhouses with teachers and children lifted into the air and a bit further broken into pieces, completely smashed to matchwood." She just have been biting her lip just narrating the tale. "A child could easily carry the largest splinter, and of some of these buildings the living quarters alone had cost ten thousand dollars."
That story scared her, this young stranger who, after only a year, still found herself in a very strange land.