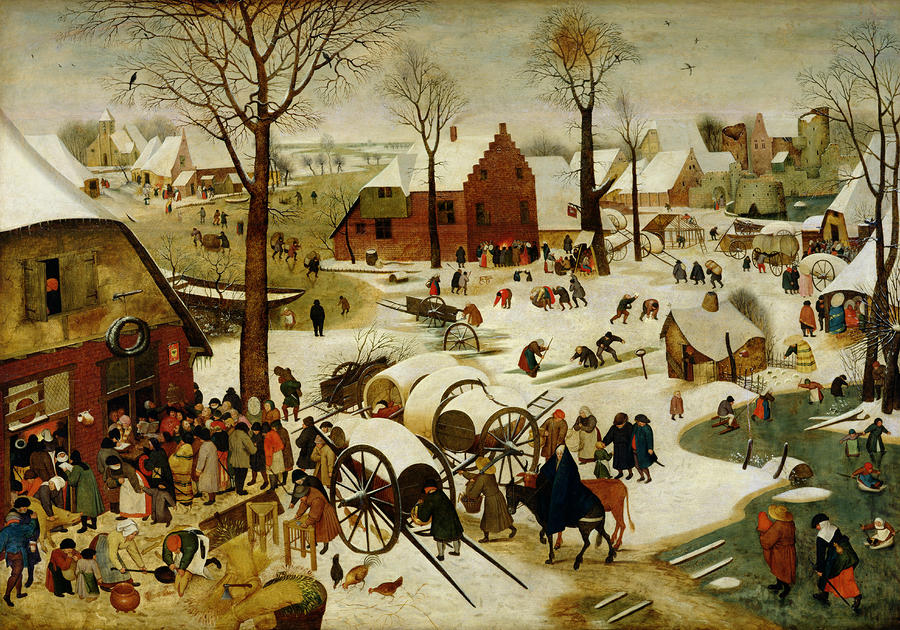 Strangely enough, I don't have to look all that far to see buildings shaped exactly like the one standing just above the visual center of this old painting. Just down the road in Orange City, Iowa, town fathers
mandated long ago that any new business had to build to a code that's drawn up from 16th century Holland. Silly, but cute.
The stepladder roofline is the first key to seeing what on earth is going on in this 16th century oil-on-cavas (1566, to be exact) by a Flemish Renaissance artist named Pieter Breughel, or, as he's sometimes called Pieter the Elder (as opposed to Pieter the Deacon, I guess).
This is the Netherlands--gray sky, lots of snow, ice skating, sledding, hats and gloves, hip-roofs, and a gallery of stone fortresses in the far right background, a collage some say resembles old Amsterdam.
What can't be missed here is that The Census at Bethlehem isn't at Bethlehem. Clearly Pieter the Elder is picturing rural Flanders somewhere, mid-winter; and while there is a Bethlehem, Pennsylvania, there was no Bethlehem in the Netherlands back then nor is there now. But it's clear the painting features some kind of gathering: look at the crowd lined up at the building in the foreground, a whole bunch of wooden shoes presumably there for taxes and an official head count.
The Census at Bethlehem is up on our wall again, as it is every December. Not the original, of course; the Elder Pieter's masterpiece is hung in some Royal Museum in Brussels. But we've got a print of The Census, and this December it has a new place in a new house.
It's up because of two figures who get lost in the crowd, two of them right in front--a man with a saw up on his shoulder, who's leading an ox and a donkey--see him? And there's a woman on that big black mule; she's heavily wrapped but peeking at us just the same, or so it seems, peeking as if she's the only one conscious of Elder Brueghel up in some tree stand with an easel.
Here, look for yourself. Here they are.
I guess she's not peeking. Her eyes are downcast. Why? Who knows? But what's clearly suggested from the saw over the man's back and the donkey and the woman who isn't walking and the title of the painting is that Brueghel wants us to see Bethlehem, as if it were just another Dutch hamlet somewhere nowhere, or maybe even Orange City, Iowa, for that matter, some place in time and out of it, in time and eternity.
What's more, think of it this way: Mary and Joseph and the babe (who has as yet to show up) are just more pilgrims in the messy gathering created by a stupid government census. Even the path they're on is beat on and probably shit-strewn, see?
Bruegel's Census is up in our new house, just as it was in our old ones, because to our tastes it's the greatest Christmas painting ever. If I hadn't told you (and you didn't know the painting), you could have easily missed the whole pageant, the whole affair, the whole thing, just like the passle of folks right there in Flanders missed it
. That's the point. Look at that man with his hand on the little girl's shoulder--you think he knows Jesus Christ the Lord is twelve feet away? No way. This is just ordinary life, ordinary life, just like yours and mine.
Who woulda thunk, right? Even when it happened, who woulda' thunk? At the very time Jesus Christ was born, some guy had a migraine, some kids were out when they shouldn't have been, some mom was worrying about her toddler's cough? Did they care about what was happening a barn? Not a whit. They didn't have a clue. No one did.
That's how inconspicuously the King made entry into our world and into our story. God almighty decided to pull on a suit of human skin. Imagine that. Who could have guessed?
Just another couple coming into town, only this one carrying a boychild that demure woman with downcast eyes--maybe she's already in labor?--is about to give to us and to the world, a boychild who is our Savior, Wonderful, Counselor, the Mighty God, the Everlasting Father, Prince of Peace.
Who would'a thunk?
No one. Not you or me either. We couldn't have guessed. It's the greatest story ever told.
That's why The Census is up again this December in our new house.
We think it's even better than a tree.