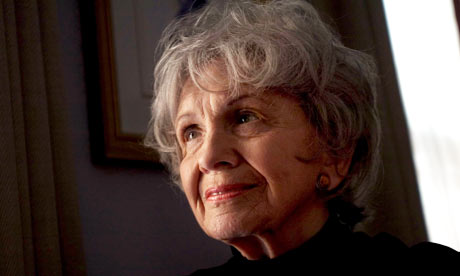 Just one of my post-retirement musts is in one of the boxes that surround me right now, waiting for my office furniture--my entire collection of Alice Munro stories, almost endless volumes, all of them--all of them stories!--endlessly good.
The news just appeared in my in-box. She just was awarded the Nobel Prize. I couldn't be happier,
I'm woefully inept on world literature. I don't know the great Eastern European contemporary writers, nor those from the Middle East. What I do know is that no one writes a short story like Alice Munro, who, in many ways, never left the world she lived in. The great genius of her stories--in terms of accomplishment--is that she could make a short story a novel.
There are other attributes--marvelous characterization, spiraling plots, stunning sentences--but Alice Munro is a master of economy, which is always an attribute in great art, saying least and most at the very same time.
For years I've been asked who is my favorite author, a question I don't like to answer because in so many ways I don't know. I absolutely loved Kent Haruf's Benediction this summer, a great novel. I also loved Me Before You--a whole different genre. I'm afraid I'll never warm to fantasy or sci fi, but I honestly love most any lit that tells the truth beautifully. Jhumpa Lahiri is a dream.
But here's my answer to the question I don't like posed: My all-time favorite writer just won the Nobel Prize for literature, Alice Munro.
Somewhere just outside this big picture window I face in my new basement study, I swear that if I listen carefully, I can hear music from the spheres. All is right with the world.