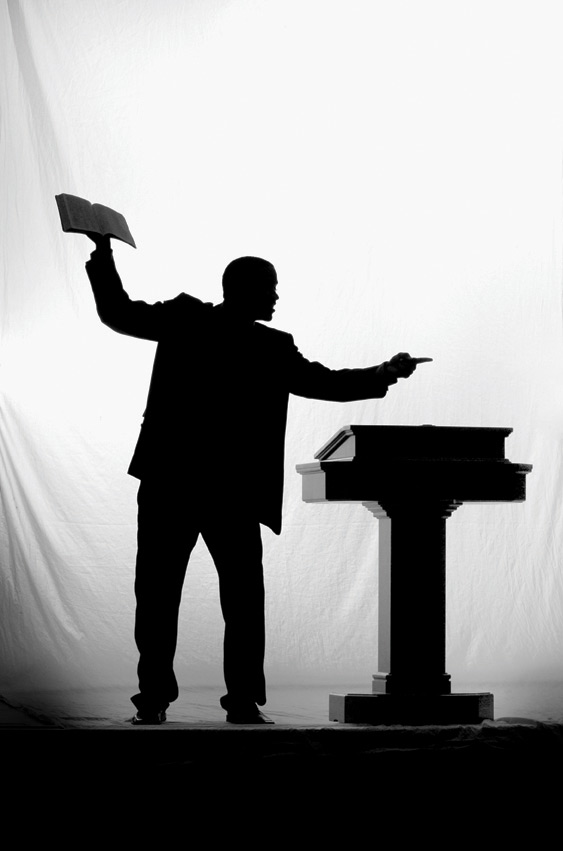 The "third occurrence" was even more remarkable--probably because the radio voice was much less "fitting." The subject of the sermon (the occurrences all have happened at approximately the same time in the service) in this case is immaterial. Smithson had trouble starting, as he sometimes does. He was looking for the right impulse, much like a pianist looking over the keyboard and flexing his fingers before beginning in earnest.

Suddenly, there came a voice, male again, this time pitched dramatically in the manner of someone reading poetry. "The blackened ash is planted as a covenant with spring," it said, the words on a slow march, "but in its dead loins there is no life but the seed of fire."

This was only the third occurrence, mind you, but the congregation had already become so accepting of the phenomenon that no one exhibited the least bit of annoyance. Rather, all eyes came to rest on Smithson, who understood instantaneously that this third quite unexpected and singularly elusive transmission had become, on the basis of what had happened already twice before, his text. He had to explicate because all of us, and all the new people who'd come to visit Delaney Street--and even Smithson himself--had already convinced ourselves that these transmissions were unique manifestations of the hand of God Almighty.

So, without thinking, he began to move into a detailed analysis he hadn't planned on, delving into what he determined to be the truth of the line so almightily delivered into our sanctuary: that in this world of woe, death is always and only an end, never a beginning; only with Christ can life emerge from death. Or something to that effect. That morning, everyone in the congregation felt assured that they had been in the presence of something more than ordinary.

Soon our congregation outgrew even our own brand-new facility. True believers came from all corners of the city, hoping that they would be present when another such occurrence took place. Our fine blonde pews were full of pilgrims.

Imagine, if you will, the complete shock to all in attendance when the fourth occurrence was no more than two sentences from a woman explaining something about the role played by mythical feminine gods in the lives of some sub-Saharan tribe centuries ago. But Smithson never wavered, quickly turning the line into a kind of celebration of the universality of God. He talked about how all human beings are born with an innate God-concept, and how our need for the divine is often temporarily satisfied when we build images of our own imaginations, but is eternally satisfied only when we come to the God of the Bible.

No one in the church that day found Smithson's ideas startlingly fresh. What made that sermon unforgettable was the effect that once again sudden and unexpected voice from outside the sanctuary had created on the service.

The fifth occurrence took place three months after we moved into our new sanctuary. A piece of African folk music whose lyrics no one understood became the occasion for a Smithson homily on finding our own unique way to speak to God.

And the sixth occurrence, equally memorable, was some male voice who claimed that politicians of old seemed driven by a sense of public good, not political expediency. It went something like this: "The early leaders were men of committed principle. They were philosophers as well as very practical people. That's why we had that sunburst of leadership some two hundred years ago." Smithson used it, as you can imagine, to charge us with the necessity of being strong leaders.